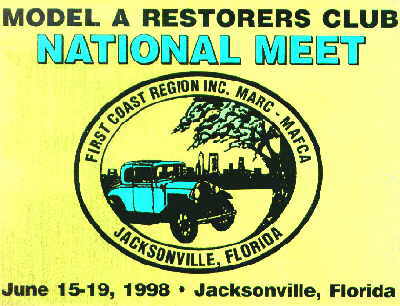 MARC 1998 National Meet - Jacksonville, Florida
as enjoyed by the Shade Tree A's of Augusta, Ga.
The Model A Restorer's Club National meet officially got under way Monday morning. Many of our members were up early helping the flea market vendors unpack their wares. Then it was back to the hotel for breakfast before the heavy shopping. Everyone participated, the men in the flea market and the women crossing the river for a day of shopping at The Landing. Dale directed us to a local restaurant for breakfast, which soon became meeting place each morning. And early morning meetings were common. Because of the heat we got up early each morning to start the day's activities.



Last Update: 9/14/2007
Web Author: Daniel T. Perla
Copyright ©1997-2007 by Shade Tree A's - ALL RIGHTS RESERVED